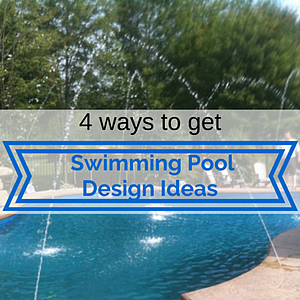 One of the steps to do before buying a swimming pool, especially inground swimming pools, is to make a list of all the pool designs ideas you like, and don't like. Call it a visual backyard dreamboard.
When Campbell Pools started, we would provide clients with a booklet to start the conversation on available pool designs.
Now, the internet has opened the way for many more ressources to get inspired.
Below is a list of the top places to get a list of amazing pool pictures that you can discuss with your partner, and show your sales representative. This will allow swimming pool companies to know better what you want.
---
1. Pinterest,
Discover and save creative ideas

Pinterest is a social media platform that allows you to "pin" everything that you find interesting. What is also fun, is you can search for anything on the platform, and "pin" everything you like for that search.
How does that help with your swimming pool design ideas?
Well, you can start with a seach for inground pool design

You will find thousands of images of swimming pools! You can add more keywords to filter your search to exactly what you want.
2. Houzz, a P
latform for Home Remodeling and Design

This is an up and coming network to find professionals to do work on your home. Their emphasis is on pictures. This is perfect, because you can not only lookup for a swimming pool that matchs what you want, but you can do location specific to Ottawa Swimming Pools.
You can even find the builder who made the pool. This website is amazing to get inspired. You can also see the work of pool builders in the area.

The concept of this website is to build your project profile. Read more about it, and look for inspiration.
If you want to see the work Campbell Pools has done, click here
3. Google Images

This is by far the easiest way to get a list of pictures of swimming pool design ideas.
If you are looking to simply find lots of pictures and save it to your computer for later, Google is still the best.
Just write exactly want you are looking for on google Images, such as Inground Pool Design Ideas


You will quickly get a showcase of thousands of pictures.
4. SwimmingPool.com, T
he ultimate swimming pool resource

It is indeed a great place to find information. Fair warning, it is usually tailored for american shoppers.
That being said, it has a section of picture galleries to allow you to get inspired for your project.
I like this website especially for people who want to browse through the categories without feeling overwhelm from google, or the complications from the first 2.
Find swimming pool pictures of Ingrounds, Abovegrounds and more
---
There you have it. Pinterest and Houzz are my favorite, because they are designed to help someone get lots of pictures organized together. They become easy to share with anyone for feedback and the filtering options will get you more relevant results.
The drawback is that you need to create an account, and learn the platform. If you can do that, start there. If you simply want to look at lots of features and get inspired in the simplest way and computers are not your thing, try google and swimmingpool.com
By using any tool, you will be far ahead in getting the right kind of swimming pool design ideas to get you started.