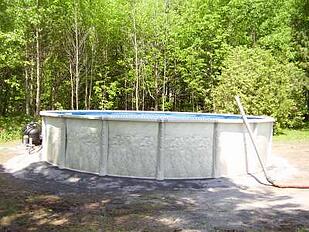 If you are shopping in Ottawa, you have many options available to you. Tools like Kijiji allow you to see used goods that you can purchase second hand. Is it safe? Are you better off just buying a new pool from a store? Here are a few tips.
Buying a Used Above Ground Pool
The short answer is that yes, you can buy a used. What I do recommend, is that you buy it while it is still assembled. The reason is that if someone sells you an above ground pool and you are not familiar with all the pieces that should be included, you might find yourself missing critical pieces. You should be ready to inspect all the items that are sold to you and make sure their condition is good. If you buy the above ground pool and dismantle it yourself, you at least know that it can stand, all the piece are there and you can organize everything.
As you shop, do note that steel above ground pools are more reliable to reinstall then resin. The plastic is more likely to break. The Steel will only bend slightly.
When you re-install a pool, know that you will need a new liner no matter what. I would highly recommend hiring a professional installer.
Buying a new Above Ground Pool
The benefits of buying new is that you know all the pieces are accounted for and not broken. If you get it installed as well when you buy from Campbell Pools or any other pool dealer in Ottawa, we have some of the most experienced pool installers in the Ottawa region. Some have over 30 years of experiance. You get peace of mind knowing that everything is well taken care of.