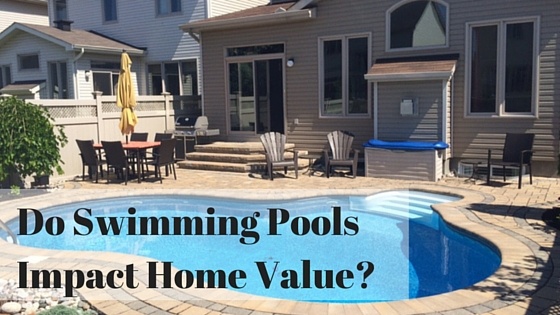 Buying an inground swimming pool is not a small investment. It's a luxury item that will transform your backyard. And it doesn't stop at the pool. You will usually be looking into getting fencing around it, as well as landscaping the whole place.
When people walk in looking into buying a pool, we often get a question regarding the return on investment.
If I buy a inground swimming pool, will it increase my home value?
I often translate this question into a simple no. The reason is because I know the real question is "If I buy an inground swimming pool for X$, will my house increase in value by more then X$".
If a swimming pool company tells you otherwise, more than likely they want to persuade you to buy rather then truthfully answer your question. (I would say that's a reg flag already!)
A few things happen when you buy a pool. First off, if you are selling the house with a pool, there are 2 types of people that will not be interested in your home anymore.
People who do not want a pool. They see it as a maintenance and they do no anticipate using it.
People who their own swimming pool design. They have always wanted to buy a house and go through the project of getting the inground swimming pool themselves.
Since those two market segments will not be interested in your home, you limit the available amount of people ready to buy your house (which affects the price negatively)
I can reassure you that there is a silver lining. A segment of the market will be looking specifically for homes with an inground pool. Typically families who do not want to go through the pool purchase process and want a turn-key opportunity. We asked a local real estate agent to voice his opinon on the subject:
"When potential clients come to me looking to sell their home with an inground pool, I advise them that although they will not recover their investment in landscaping, fencing and pool purchase, they will find themselves be able to sell the property very quickly. The reason is because the demographic that looks for turn-key, move in ready homes with a pool will be quick to make that decision when they see your house. But you have to price yourself at the market rate. You do charge a premium for the home, maybe $10,000 to $20,000 more, but that usually will not cover all the expenses."
Remember that if you are buying an inground swimming pool, know that it's an expense for your home. It's a decision to spend on the enjoyment of your own backyard.