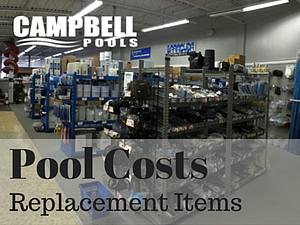 Every year we need to look at at a few items that add to the siwmming pool cost. A pool owner should budget $200 a season for replacement items that wear out. For most seasons it will cost less than $200, but there will a season when everything seems to need replacing all at once and it will add up to a bit more.
What are the items that add to the swimming pool cost?
These replacement items are things such as the Nature II cartridge, the filter cartridge, solar blanket, O-rings and standard light bulbs. Now the pool owner won't need to replace the solar blanket every season, but they typically need to be changed every 3 to 4 seasons. O-Rings on certain parts of the plumbing and equipment need to be replaced every 2 to 3 seasons. The cartridge filter will last anywhere from 2 to 5 seasons.
Swimming Pool Cost Series
For more information, have a look at all related posts about swimming pool costs: