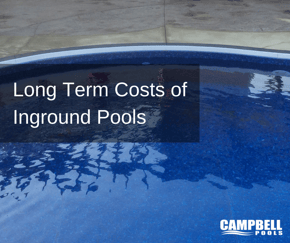 Long term costs for Inground Pools are items that will need to be address 5+ years down the road. Just like maintenance in a car, these items need to be looked after depending on wear and tear. Every pool owner should know about this and anyone considering a pool should make sure to know about these before making a pool buying decision. The major items are:
Deck/Patio Maintenance – about every five years

Salt System cell – 5 to 7 years

Heater Maintenance

Pump maintenance

LED Lights

Automatic Cleaners

Vinyl liner
Deck / Patio Maintenance
About every five years, whether your pool deck, patio area of interlocking stone or poured stamped concrete, maintenance is required. For the colored stamped concrete, this means re-sealing the area and for the stone it means cleaning and re-applying new sand. Regular unsealed concrete, colored or not, will typically be fine for well over ten years before the need to clean it arises.
Salt System Cell
The salt water system cell will typically last about 5 to 7 years based on how hard the system as had to work. Depending on the salt system attached to the pool, the cell will cost in the neighborhood of $350 to $750.
Heater Maintenance
After the first five years of use, it is to be expected that certain items of the heater will need to be serviced or replaced. The most common is the pressure sensor. We highly recommend having a qualified gas technician inspect the heater once a season after the heater is five years old. The service call usually costs about $200. Typically we can expect a heater to last for ten to fifteen years before needing replacement.
Pump Maintenance
The modern pool pumps have an average lifespan of about fifteen years (if properly maintained). Pump maintenance is easy but often overlooked. Simple things to remember doing to add years to the life of a pump are:
Lubricating the o-rings every season
Ensuring that the pump isn't cavitating
Making sure the strainer basket is clean
But when the time comes, it will cost between $350 - $800 depending on the model and whether the pool owner does the work themselves or not.
Filter Maintenance
Sand filters need to have the sand changed about every 7-10 years. $30 - $60 for the sand, $250 if you have it done by us (sand and labour).

Cartridge filters last about 3-5 years and need to be replaced. The cost varies on model, but it should be between $100 - $200.

On both systems the pressure gauge lasts about 2-5 years, $10 to replace.

LED Lights
LED light bulbs last for a very very long time. Most are rated for 50,000 hours or more. To put that in context, if you run your pool lights every night from 8:00pm to Midnight, they should last just over 34 years!
Of course, the real world tends to work a little differently. Because of the harsh climate we live in, the main reason for LED failure is the repeated hot/cold cycle they endure. But they should in reality last for well over ten seasons.
There are numerous light systems on the market, and each one has a different cost for replacing the LED bulbs. Campbell Pools uses the AquaLamp system which is one of the simplest and easiest to maintain. Changing the bulb can be done by the pool owner very easily without the need of calling in a pool technician. The bulbs do cost about $250 a piece. But when you figure they will last you over ten years, it's a pretty reasonable cost.
Automatic Cleaners
Recently it has become fairly standard for swimming pool companies to include an automatic cleaner with each new inground pool they build. These cleaners come in a variety of models and types but pretty much all of them will have a lifespan of about ten to twelve years. Some versions also have parts that might need to be replaced every season.
Some cleaners are quite advanced and pricey. It's a good idea to ask your pool pro or refer to the instructions on how to properly maintain the cleaner to get the most out of it. It's often little details that we don't think about, but that can add years to the lifespan.
Vinyl Liner
By far the most expensive item that needs replacement at some point is the pool's vinyl liner. On average these get replaced after 15 years. In many cases, the pool owner decides to replace the liner simply to update the look more than because the liner punctured.
After all, a vinyl liner is in the harshest of environments. During the summer, it is subjected to intense UV light from the sun (the same thing that give us a sunburn) and to chlorinated water (bleach is a form of concentrated chlorine). In the winter time, it's exposed to freezing temperatures and unless covered, also exposed to UV light. It's not unusual for a vinyl liner to begin fading and changing color after ten years or so.
On typical inground pools, the cost of changing the vinyl liner will be in the neighborhood of $3,500 - $4,500.
So there you have it; this was every "skeleton in the closet" that most pool builders don't want you do know. But we think the honest approach is always better. With this information, you can make a better decision if inground pools fit your budget and if they are right for you.