A huge factor in the cost of an inground pool project is how we can access the area in which the pool is being installed and what size of excavation equipment we can use. While it is technically possible to install a pool in virtually any yard regardless of the type of access we have, the cost of doing so can quickly get out of hand.
How much space is needed will also vary from pool builder to pool builder as they may own different excavation equipment that is of different sizes.
The following is based on the type of equipment owned and operated by Campbell Pools.
'Wide Open' access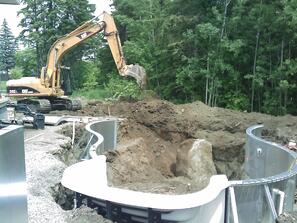 The best possible situation is having a wide open area from the street to where the pool is being installed. In most rural areas this is pretty much always the case while in built up urban areas this is rare. Examples of wide open access might be a suburban corner lot, a backyard that backs onto an open property such as a park or right of way or simply having about 15' of open space between two houses that leads to the backyard.
In order for us to consider an access to be 'wide open' we need a continuous path from the street to the excavation site that is at least 14'0" (4.3m) wide and 14'0" (4.3m high). The height is often a sneaky one since you may have the width, but because of the roof overhang, you end up with a much smaller area that is open above.
This type of 'wide open' access allows us to use our largest equipment and adds nothing to the cost of an inground pool installation.
'Single Loader' access
The next size of access we would need is a continuous path that is at least 9'0" (2.75) wide and 14'0" (4.3) high. This 'Single Loader' access will allow us to use our large excavator while needing a small loader to move the excavated material to the street and the waiting dump truck. Because of the added machine and operator, this increases the cost of the pool slightly. On an average pool it would be in the neighborhood of $1,200 – 1,600.
'Tight Squeeze' access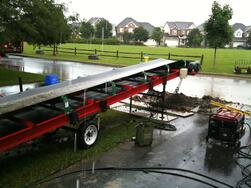 If the access is even less, the next step would be having at least 5'8" (1.73m) wide by 10'0" (3.05m) in height. This would allow us to use a mini-excavator and a small loader or our exclusive conveyor belt system. Of course by using even smaller equipment it slows down the installation and adds to the labour costs. The 'Double Loader' access typically adds about $2,200 – $2,600 to the cost of a pool.
'Custom' access
When we encounter a yard access that is even less than above we then fall into a 'Custom Access'. This means we need to use very specific equipment for that particular job. Not only are we slowing down the excavation by using even smaller equipment, but there is the added cost of having to bring in special equipment which we don't own. At this point we are anywhere from $3,500 to $5,000+ added to the cost.
It's even possible to install a pool in a yard that has no access whatsoever by using a very large crane and special attachments, the cost however is now getting into the 'tens of thousands' range making such installations unaffordable.