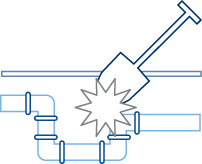 When anybody for any reason is digging anywhere, they are responsible for knowing what is underground. The excavator is ultimately responsible for any damage they incur while digging. And that being said, you certainly don't want to be responsible for cutting a major fiber optic line that costs half a million dollars to fix!!


Do avoid that situation, you need to call before you dig. We use a service called ON1CALL. This service takes your request and sends them to all the possible utility owners in the area. The utility owners will then send the 'all clear' or a diagram of where the utility is located back to the excavation company. It's important to remember that it's the excavator that is responsible for any damage. Therefore it's important to be wary of any pool company that tells the homeowner to get the locates done rather than handling them themselves.

There is now a legal requirement to get locates done. Campbell Pools therefore does a locate for any dig we do and we'll handle all the requests ourselves. We however don't necessarily do any locates for fencing. This means that if a fencing company is coming in to install a new fence, they will need to have locates done. If the homeowner is building their own fence, they should have locates done.
If the homeowner wants us to get locates done at the same time for fencing as we are getting the pool dig locates done, we can accommodate that and provide copies of the locate reports. But remember; don't dig until you have the reports in hand showing exactly where any utilities are located.
While you are considering a swimming pool, you might want to make sure you know the Bylaws, Permits and regulation in your area.