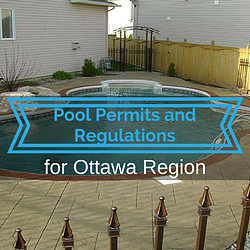 Residential swimming pools are subject to township/city bylaws. A permit is required for the enclosure (fencing) and grading.
Surprisingly enough, pools are not subject to any building code requirements. While true in the Ottawa area, other jurisdictions do have building codes regarding the pool itself and each township/city has a different set of bylaws.
Information regarding swimming pool regulation and fencing bylaws can be found with your local township/city building permit office.
As a rule of thumb, these bylaws are a set of requirements that cover the following.
Requirement for the pool area to be fenced off. The various jurisdictions will have different height requirements and in some cases may even have particular construction methods required.
How gates and doors leading to the pool area must be secured.
Distance the pool must be from various elements on the property. How far from the property line for example or how far from the house.
In the case of Ottawa, there are two sets of by-laws that must to be taken into account when building a residential swimming pool. The first is the swimming pool fencing by-law, the second is the grading by-law. It can be confusing at times because the information is located in two places.
Beyond the by-law requirements and possible building codes, there are also other requirements that may come into play depending on where you live and whether there are special requirements attached to your particular property. They can be:
Utility easements
These differ from township/city easements which are typically for drainage in that they are owned by the utility and in some cases, permission can be obtained to build within them. The most common type of utility easement is electrical, whether it be for buried wires or above ground wires.
Flood Plains
Certain areas have been declared flood plains and within these areas are very strict limitations on what can and cannot be built. Unfortunately swimming pools cannot. In Ottawa, these areas are the jurisdiction of the Rideau Valley Conservation Authority.
Soil Condition
Some areas are designated by the township/city as 'sensitive soils' and this will generally refer to an area near or along a ravine or steep grade. In essence the township/city is unsure of whether the area can support the construction of various structures, including swimming pools. In most cases we need to have an engineering firm come in and test the soil conditions to see if a swimming can be built or not. Sometimes they may require some type of special construction method to allow the pool to be built.
Because of the numerous requirements and multiple sources of information, it can be somewhat difficult for a homeowner to navigate the legal swimming pool regulation and knowing what swimming pool permits you need in your city. This is where a pool professional can be an invaluable help for a homeowner.
If your concerned about the requirements specific to you, be sure to request a quote using the button below. Our first step will be to share information that is specific to you.
You can also read more about How much do Inground Pools Cost