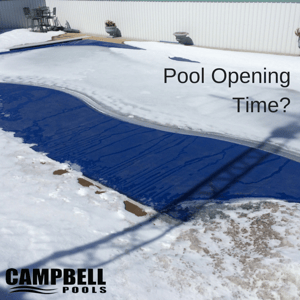 Every year when the snow starts melting and the sun goes up, the phones start ringing in the office with people asking:
"When Should I open my swimming pool?"
The short answer we always say is:
As soon as possible. Let me explain.
When the weather starts to warm up, it becomes easier for the algae and bacteria to grow in the water. The moment you open the pool and start the circulation, that means you can also add sanitizer (like chlorine). It's much better to get the pool up and running and have the water cleared then it is to fix a green algae infested pool.
But that doesn't mean you just have the pool up and open the moment you see the first strand of grass!
You simply have to wait until the ice inside the pool is all melted. Typically, we say last week of April is a good time to start planning to open the pool.
Being in Ottawa, the good part is that you don't need to have the pump running that frequently. The water should still be pretty cold at that time so again, it's easier to maintain.
If the question is "when can I JUMP into the pool?", well, that depends on how brave you are when the water is still in the low 50 degrees.
Yikes!
If you want to schedule your Pool opening - click here to book now with our official service provides at HB Pools